19:30
The UK government does not have a clear strategy to acquire and distribute the equipment needed to protect clinical and care workers in a second wave of coronavirus, parliament's spending watchdog has warned.
The public accounts committee on Wednesday insisted that ministers should return after the summer with a detailed explanation of how they plan to stock the NHS and care sector with gowns, masks, eye protection and gloves.
MPs on the cross-party committee said they were "extremely concerned" by shortages of personal protective equipment (PPE) during the first wave of the Covid-19 pandemic and said the government was still developing plans for replenishing current stocks if there was a further outbreak.
19:18
Brazil records 1,312 new deaths
On the day Brazil's president, Jair Bolsonaro, announced he had tested positive for coronavirus the South American country has recorded another 1,312 deaths and more than 48,000 new cases.
According to a coalition of Brazilian news outlets keeping an independent tally, that takes Brazil's total death toll to nearly 67,000, the second highest number in the world.
Brazil has now registered 1.67 million confirmed cases, including that of Brazil's far-right leader who is facing domestic and international condemnation for his handling of the crisis.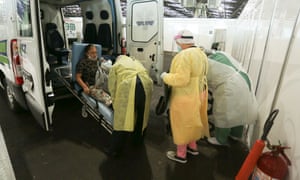 Earlier in the day, as Bolsonaro announced he had tested positive, he took off his mask in front of journalists and said: "Just look at my face. I'm well, fine, thank God … Thanks to all those who have been praying for me … and to those who criticise me, no problem, carry on criticising as much as you like."
Marcelo Freixo, a left-wing politician from Rio, has since denounced Bolsonaro to the attorney general for alleged crimes against public health, for putting the journalists who were present at his announcement at risk.
19:06
US officially notifies World Health Organization of its withdrawal
The US has formally notified the World Health Organization of its withdrawal, despite widespread criticism and an almost complete lack of international support for the move in the midst of a pandemic.
Donald Trump announced his intention to withdraw in May, accusing the WHO, without evidence, of withholding information, and of being too close to China. The letter confirming the move was delivered to the UN secretary general, António Guterres, officials confirmed on Tuesday.
A WHO official said: "We have received reports that the US has submitted formal notification to the UN secretary general that it is withdrawing from WHO effective 6 July 2021."
Trump's Democratic challenger for the presidency, Joe Biden, said he would return the US to the WHO before the year-long process of withdrawal was complete.
18:58
WHO acknowledges 'evidence emerging' of airborne spread of Covid-19