07:31
Lauren Aratani has been reporting for us in New York on the economic impact of Covid-19 on Gen Z, many of whom are at the formative years of trying to start careers and adult lives, just as the economy has been shattered by the pandemic.



The unemployment rate for teens ages 16 to 19 peaked at 31% in April, more than double the national rate of 14.7%. College graduates who only months ago were on track to enter one of the best job markets in US history have instead landed in one of the worst. A slate of summer internships and jobs have been cancelled and they are worried about their parents struggling to pay bills.
Lauren has spoken to people hoping for internships, new job prospects, or looking to enter college, about how the coronavirus shutdown has impacted their plans.
Read it here: Why the Covid-19 financial crisis will leave lasting scars on Gen Z
07:25
With so much focus on the coronavirus outbreak at home, it is sometime easy to forget that geopolitics is going on. There's a reminder today for the Trump administration, after China opted to again criticise US military actions in the South China Sea.
Foreign ministry spokesperson Zhao Lijian said joint exercises involving two US aircraft carrier groups in the strategic waterway were performed totally out of ulterior motives and undermined stability in the area.
"Against such a backdrop, the US deliberately dispatched massive forces to conduct large-scale military exercises in the relevant waters of the South China Sea to flex its military muscle," Zhao said at a daily briefing.
The US Navy said over the weekend that the USS Nimitz and the USS Ronald Reagan, along with their accompanying vessels and aircraft, conducted exercises.
China claims almost all of the South China Sea and routinely objects to any action by the US military in the region. Five other governments claim all or part of the sea, through which approximately $5 trillion in goods are shipped every year. Washington does not officially take a stand on the rival territorial claims in the region, but is closely allied with several of the claimants, and insists that the waters and the airspace above be free to all countries.
07:16
More details are emerging about Summer Taylor, the protester who was killed when a car was driven into them in Seattle at the weekend.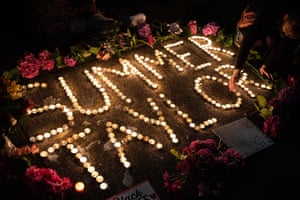 Taylor, 24, spent the last six weeks "tirelessly standing up for others while working full time and supporting everyone around them," wrote Urban Animal on Instagram, the veterinarian clinic where Taylor worked in Portland, Oregon.
Taylor was described as "a positive force of nature" and someone brought joy. "Anyone that works for Urban Animal will tell you that Summer Taylor's laugh makes any bad day better."
Katelyn Hoberecht, who worked with Taylor at the veterinary clinics, told the Seattle Times that Taylor had been a frequent presence at protests.
"Summer has been there since day one standing up for Black lives. Staying out all day and night, while still working full time taking care of animals," Hoberecht said. "Summer talked to me about the protests, and how incredible it was to be a part of something so huge. A part of history."
Diaz Love, who was also injured in the incident, remained in serious condition Sunday in the intensive care unit at Harborview Medical Center, but a spokesperson said her health is improving.
The driver of the car that struck them faces a second hearing on Monday in connection with the incident.
Here's our full report: Summer Taylor honored for 'standing up for black lives' following death at protest
Updated

06:53
Our Joan E Greve has been looking at whether swing states may be up for grabs as Covid-19 hits Republican strongholds. While the coronavirus outbreak may have initially hit coastal metropolitan areas solidly seen as Democratic strongholds, the picture has changed.



States that reopened quickly, as the president advised, are now seeing a surge in cases and a rising hospitalizations and that is impacting the Republican heartland. States that Trump won in 2016 account for about 75% of the new cases. A few of those are key swing states that Trump will almost certainly need to win again to secure a second term. And as the devastation of the pandemic spreads across the country, other states long considered to be reliably Republican also appear increasingly up for grabs.
The piece has a look at what is going on in Texas, Florida, Arizona. Read it here: Swing states may be up for grabs as Covid-19 hits Republican strongholds
06:46
Axios this morning are reporting on a new Joe Biden campaign initiative – chats with celebs on Insta.



The campaign, called #TeamJoeTalks, is an attempt to open up a new front on social media, drawing on celebrities' Instagram followers to help find and motivate voters while large parts of the country remain locked down.
Republicans have made much of the fact that Biden has been in his basement running a virtual campaign while Donald Trump is back to the shock and awe tactic of his mass rallies, but the Biden campaign are betting that during a pandemic, it is their approach that will pay dividends.
Especially if they get directly at young voters through the massive Instagram followings of celebrities. TV actor Misha Collins has 4.2 million followers, and this afternoon will be chatting with Biden senior adviser Karine Jean-Pierre.
Read it here: Axios – Biden campaign using Instagram to mobilize celebrity supporters
06:35
Here's our updated tracker of the countries with the most cases of the coronavirus – showing the US way out ahead.
The New York Times has done a deep data dive into the racial inequality behind those numbers.



Latino and African-American residents of the United States have been three times as likely to become infected as their white neighbors, according to the new data, which provides detailed characteristics of 640,000 infections detected in nearly 1,000 U.S. counties. And Black and Latino people have been nearly twice as likely to die from the virus as white people, the data shows.
While the Times admits that the federal data is flawed – they say race and ethnicity information is missing from more than half the cases, and it only goes up to May – they say it is the best picture yet from the data.



Experts point to circumstances that have made Black and Latino people more likely than white people to be exposed to the virus: Many of them have front-line jobs that keep them from working at home; rely on public transportation; or live in cramped apartments or multigenerational homes.
You can read it in full here: New York Times – the fullest look yet at the racial inequity of Coronavirus
06:15
Frederick Douglass statue torn down in Rochester park
Here's more from the Associated Press on the removal of the Frederick Douglass statue overnight. It was ripped from its base in Rochester on the anniversary of one of his most famous speeches, delivered in that city in 1852.
Police said the statue of Douglass was taken on Sunday from Maplewood Park, a site along the Underground Railroad where Douglass and Harriet Tubman helped shuttle slaves to freedom.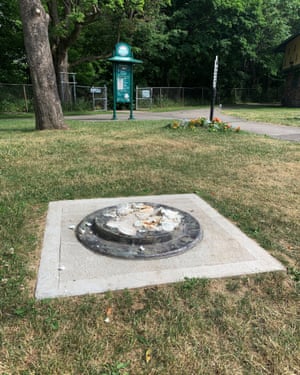 The statue was found at the brink of the Genesee River gorge about 50 feet (15 meters) from its pedestal, police said. There was damage to the base and a finger.
In Rochester on July 5, 1852, Douglass gave the speech "What to the slave is the Fourth of July", in which he called the celebration of liberty a sham in a nation that enslaves and oppresses its Black citizens.
To a slave, Douglass said, Independence Day is a day that reveals to him, more than all other days in the year, the gross injustice and cruelty to which he is the constant victim.
Carvin Eison, a leader of the project that brought the Douglass statue to the park, told the Rochester Democrat & Chronicle another statue will take its place because the damage is too significant.
"Is this some type of retaliation because of the national fever over confederate monuments right now? Very disappointing, its beyond disappointing," Eison told the local WROC-TV channel.
Incidentally, yesterday we had an interesting piece looking at the Frederick Douglass' own contemporary thoughts on one of the contested Lincoln statues in the spotlight at the moment.
06:10
Good morning, welcome to our rolling coverage of US politics, which understandably is still very much focussed on both the impact of the coronavirus outbreak and the ongoing Black Lives Matter protest movement. Here's a quick catch-up
The president's official diary is empty today, save a meeting with secretary of state Mike Pompeo in the morning.
I'm Martin Belam and I'll be running this live blog for the next few hours – you can get in touch with me at [email protected]